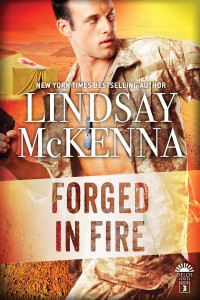 Forged in Fire, Book 3, Delos Series
December 3, 2015
ePub ISBN: 978-1-929977-10-9
Kindle ISBN: 978-1-929977-09-3
Paperback ISBN: 978-1-929977-11-6
Book 3, Forged in Fire, you will meet Delta Force Army Sergeant Matt Culver. He's been in the Army since eighteen and is a kidnapping and ransom (KNR) specialist out of Bagram, Afghanistan. Matt's enlistment is up in four months. During a holiday program over Thanksgiving at the base, he meets Dr. Dara McKinley, a pediatrician who volunteers her time at a charity in Kabul. They are on a collision course with one another. Matt will later be director of KNR at Artemis.
Matt has three months to go until his enlistment is up. His focus is on leaving the Army and joining his two sisters in running Artemis Security, the Delos charities in-house firm. And he's certainly not expecting to meet a woman that will steal his heart. Coming back off a brutal week-long mission, all Matt wants to do is go sleep off his exhaustion. But his friend, Beau Gardner and fellow operator, talks him into going over to the Bagram chow hall to watch the Thanksgiving USO show. He grudgingly goes. Later, he's glad he did. Two sisters, Dr. Dara McKinley and her younger sister, Callie, bring the house down with their belly dancing routines. Matt is no longer tired. Instead, he's plotting and planning on how to meet blond haired Dara. He's not black ops for nothing.
Dr. Dara McKinley is finishing up her residency as a pediatrician in the USA. Her sister, Callie, asks her yearly to volunteer a week of her time to the orphaned children at Hope charity in Kabul, Afghanistan. Dara does, but she's worried about attacks by the Taliban. She loves children and dotes on them. The last thing she expects is to meet a man who fires her imagination, heart and body. He's like a dark, lion-like warrior from the ancient past, powerful and mesmerizing to her in every way. How can she say no when he asks her out after the dance to dinner with him? Sergeant Matt Culver is pulverizing male and he gets Dara to risk everything for him. But will they be able to survive the coming storm that will change their lives forever?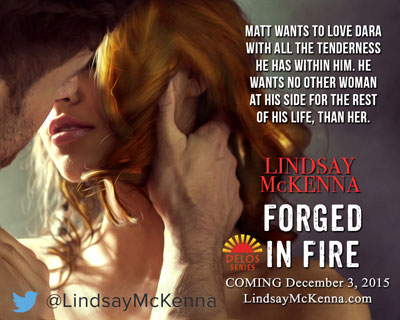 Quote Book for Forged in Fire
Download Now (1 MB)