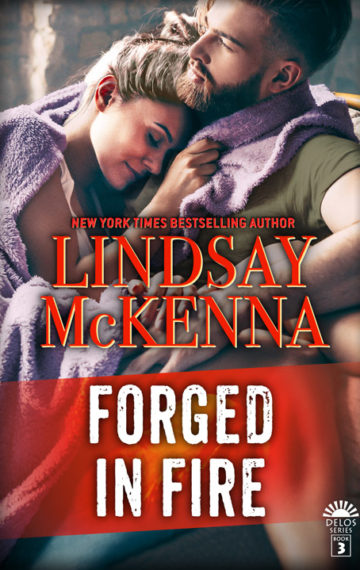 Delos Series, Book 3
Price: $4.99 to $8.99
Publisher:

Blue Turtle Publishing

Available in:

ePub, Kindle, Paperback, Audiobook

Published:

December 3, 2015
Amazon Kindle
Paperback from Amazon
Barnes & Noble
iBooks
Kobo
Audiobook
Pediatrician Dara McKinley loves her job. So how could she say no when her sister asks her to come to Kabul for a few weeks to offer medical assistance at a local orphanage? Terrified of the dangers surrounding her, Dara finds unexpected solace in the protective arms of Sergeant Matt Culver. Transfixed by the warrior with the exotic gold eyes, can Dara overcome her fears?
Sergeant Matt Culver has always listened to his instincts, and they have yet to steer him wrong. So when he sees the alluring blond belly dancer at Bagram's annual holiday show, he knows without a doubt that she's "the one." Now he just has to convince her to take a chance on him…and love. If they survive…
Forged in Fire can be purchased from your favorite bookseller and is now available as an audiobook, narrated by the award-winning Johanna Parker.
Learn more about the sequel, Never Enough
Read More!