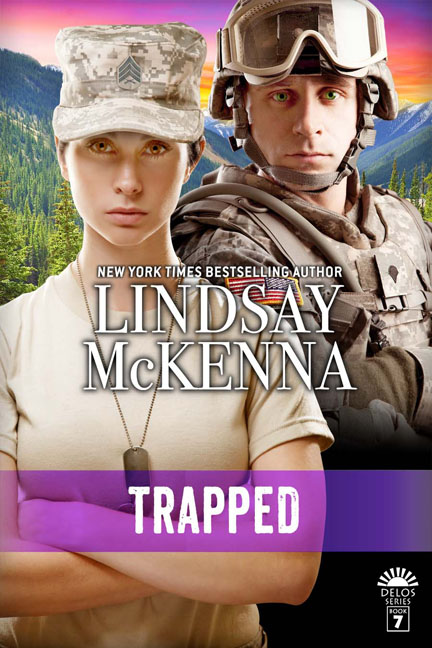 Excerpt from Trapped by Lindsay McKenna
Delos Series, Book 7
Pub Date: 7.17.2017
"GET THAT BITCH!" screamed Emilio Azarola, waving his Glock 18 in her direction.
Aliyana Montero spun around on her combat boots, grinning like the jaguar she was. Gripping the M4 in her gloved hand, she sped off into the woods of Mexico's Sierra Madre Mountains. That bastard Azarola, drug kingpin of the state of Sonora, had met his match today! She'd ambushed a four-vehicle convoy and taken out three of them with her RPG launcher. Millions of dollars of drugs just went up in those explosions.
Azarola knew her well, and this morning she wanted the sick bastard to know it was El Jaguar who ruled, not him. He'd given her this nickname two years ago, and she'd been a ghost in his life, making hit-and-run ops against his illegal business, costing him millions of dollars in lost and destroyed drugs. The CIA had hired her to do just that: work with the government of Mexico to take the notorious Azarola down and capture him.
Now, she was close. So close. Wind tore past her as she dug the toes of her boots into the damp, October mountain soil. Above her, snow was already visible at the very top of this huge range. The soft soil beneath her boots and the pine needles sinking deep into the rich loam slowed her down as she raced through the woods to escape. Weaving in and out between the thickly forested trees, her hearing keyed to the sounds behind her, she heard more screams, curses, and shouts.
She'd created two huge explosions on the dirt road where she'd nailed the trucks filled with illegal drugs. The fire had reached the gas tanks, and the memory of that image made Ali smile. She was still breathing easily at eight-thousand feet because she was acclimated and familiar with the mountainous region. She'd lived here for two years, playing hide-and-seek with Azarola and his murderous soldiers. It gave her great pride to know she was making the drug lord hemorrhage money when he lost his cocaine packets, heroine, and huge bales of marijuana carried by those trucks. He had sent them off toward the US-Mexico border where they would have met other, smaller shipments, waiting on the other side.
The drivers would have divided up the drugs on the US side and then taken off in six different directions in the desert, each heading for big cities in the Southwest and California. There, the drugs would be sold to local dealers.
Not today, she grinned savagely, satisfaction thrumming through her as she raced across the landscape.
As she ran, her legs pumping, the forest-colored military cammos she wore helped her blend into the autumn landscape. It was cool at the higher reaches of the mountains, but her heart was elsewhere.
Cara, her twenty-six-year-old sister, had been kidnapped by Azarola's roving sex traffickers off the streets of Tucson, Arizona, a week ago. Ali had disobeyed direct CIA orders from her handler at Langley, and gone straight to Azarola's fortress high in the Sierra Madres. As a sniper, she had what was referred to as a 'hide.' It was where they hid from the enemy but could continue their recon activities. From her tree hide, she'd spotted her imprisoned sister with three other female, German tourists, all crowded into a small, outdoor cell. There were large tarps placed on top and draped down three sides of the cell where they'd been put. From a satellite, they couldn't be seen. But Ali had seen them with her binoculars as she sat hiding in a huge pine tree about twenty feet from Azarola's fortress. No one knew she was there because she was a sniper by training.
Sitting up in the tree, she'd spotted a soldier bring out a tray of food to the tarp enclosed prison. It was then she'd spotted Cara and the others. Ali had silently cried, her back against the huge pine tree, wanting so badly to go rescue her.
But she couldn't because her odds were terrible—one trained military woman against forty drug soldiers. She'd be killed if she tried to rescue them without a plan and a back-up team. Luckily, she worked with a company of Mexican Marines from an outpost in a nearby village. These men were the best of the best in that country's military. They'd teamed up with her often in the two years she'd been in the region. There were times they'd worked together to set traps for Azarola's men and trucks, nabbing the drivers and drugs. But they'd never won the grand prize: Azarola himself.
Maybe today.
Ali whipped in and around the trees, the wind now tearing past her. She could hear the drug soldiers huffing up the slope, far behind her. None of them was acclimated to this altitude like she was. Being able to outrun them was her ace in the hole, and now she was leading them into a trap where she hoped Azarola would finally be apprehended. Then, she could concentrate on getting her sister and her fellow captives released.
She knew that at some point, they would be driven to a container ship anchored at Puerto Nuevo on the Pacific coast of the Baja Peninsula. From there, the ship would be bound for Asia, where the women would be sold as sex slaves.