SECRETS by Lindsay McKenna
Release Date: 11.21.16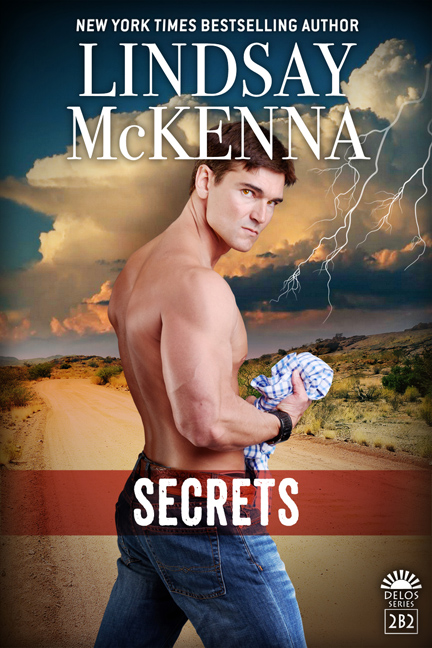 December 23rd
Mark Reuss was in such deep shit he couldn't see daylight any more. His broken lower left arm ached so badly, he wanted to yell like a banshee, but the blackness of the Texas night, the biting December cold seeping into his body, made him call on all his ex-recon Marine skills to escape up the hill.
He kept his night vision goggles over his eyes as he climbed, while below him ATF, DEA, Border Patrol and FBI agents swarmed around an 18-wheeler truck. Thanks to Mark, they'd made a surprise raid on Mexican drug lord Diego Cardona's vehicles, and now American agents were rounding up what was left of the members of his drug and sex slave cartel.
Sixty kidnapped children from Mexico had been on their way across the border in the massive trucks, all part of Cardona's sex trafficking operation that regularly stole children from all over South America across Texas soil and taking them on to the East Coast to be sold. Now, the cartel had expanded from sex trading to running a monthly gun-and-run operation, as well. Mark, who had been sent into the cartel as an undercover agent, had set up the sting. The U.S. authorities had caught the transport, and this fortunate group of children had been saved.
His heart turned toward Mattie Lockwood. The least he could do was apologize for his abrupt behavior of two days ago. How he ached to see her, to be near her. But to do that could put her and her entire family in danger from Cardona. The drug lord had spies in every Texas town along the border.
Mattie was his touchstone, the one person in his life he could never be without. And yet, he was again about to disappear from her life without adequate explanation. She was a trained EMT. She could help him with his injury.
And how would she react to his banging on her house door in the middle of the night? Would she even let him in? Mark wasn't sure after the debacle of him showing up at Mattie's kindergarten school two days ago with her friend, Tal Culver, present. More than anything, he needed Mattie. She owned his heart and she didn't even know it. He had to get her help.